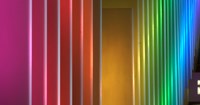 The IESANZ Lighting Awards provide a unique opportunity for public and industry recognition of professionalism, ingenuity, and originality in lighting applications and technology. The Awards are conferred on intrinsic excellence, and are not intended as a competition.
The Jury are selected from a professional spectrum that represents knowledge of lighting and design excellence. Adjudication is based upon the individual merit of each entry.
All Entries will be displayed at the Awards Function, and all Awards will be featured in the official publication, website, newsletters and social media of the IESANZ.
The Entry Fee for Members is $300 and for Non-Members is $400
AWARD ENTRIES FOR 2022 ARE NOW CLOSED !!!
IMPORTANT INFORMATION - IF YOU ARE A NZ COMPANY WANTING TO PURCHASE ENTRY TO THE AWARDS, PLEASE CONTACT SECRETARIAT AT SECRETARIAT@IESANZ.ORG. YOU WILL NOT BE ABLE TO PURCHASE AN AWARDS ENTRY ON THE WEBSITE AT THIS TIME.