Join fellow members at our upcoming social and educational events
---
---
---
QLD Chapter
"Presentation on the new edition of the AS4282 Standard for Obtrusive Lighting"
**** POSTPONED UNTIL EARLY NEXT YEAR ****
Where: Bulimba Golf Club

Time: 18:00 to 21:00
The recent updates to the AS4282 standards are still undergoing implementation of comments. A date on the presentation of the new edition of the AS4282 can not be confirmed yet but will be expected for some time in August or September. The Presentation will be done by Andrew Gale from Brisbane city council and Patrick Rident-Tiercelet from LCA Holdings Pty Ltd
---
---
"Dark Skies"

Wednesday 6th November
Doors open 6:00pm
Ceremony Kick-off 7pm
Please register your attendance via email to
I recently had the privilege of presenting a talk to a group of 30 IES Society members. As the Outreach Director of the Australian Dark Sky Alliance, I wanted to open their eyes to the importance of preserving our night skies and the various avenues for positive change.
Throughout my talk, I shared examples of what councils, communities, and businesses are increasingly seeking regarding dark sky initiatives, and emphasised the need for sustainable lighting practices. Lighting companies and industry experts and can play a crucial role in this transformation. Some of the idea presented included: the creation of Professional Development training programs for professionals involved in urban planning and lighting design; the importance of certifying luminaires as ADSA Approved; and using the Australian National Light Pollution Guidelines to inform the requirements for dark sky compliant lighting.
It is not overstating it by saying there is an enormous opportunity for lighting companies to proactively assist with outreach events to a rapidly growing audience of families, businesses and policy makers interested in getting out in the dark. This could be the catalyst for widespread change, encouraging more businesses to take an active role in light pollution reduction and the benefits to lighting organisations is a given.
---
---
---
QLD Chapter

"Night Time Golf"
When: 7 December 2023
Where: Bulimba Golf Club, 105 Quay St, Bulimba QLD 4171
Time: 17:00 to 21:00

With the end of 2023 approaching fast we are organizing a social event to close the year for 2023.
This year's event will be nighttime Golf at the Bulimba Golf club. This event will be free for financial members of the IES Queensland chapter.
So, this includes all members of all grades from Associate to MIES and FIES.
For non-members a contribution of $20 per person will be asked to cover expenses.
IES Members Free
---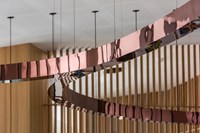 IESANZ IESANZ Webinars
Stay up to date with our series of webinars, hosted by
industry experts

.
---