New South Wales & ACT Chapter

Technical
Annual Chapter Meeting
Thursday, 15th of August, 2019
Time: 7pm till 9pm, some food and beverage provided
Where: Parramatta Leagues Club, 1 Eels Place, Parramatta
Event Sponsor:
---
The National Construction Code - Section J6
---
The NCC Section J6 webinar is now available to IESANZ members in the Members section (log in to view).
---

Awards
2019 Lighting Awards
---
The Awards represent the NSW Chapter's most important contribution to the recognition and promotion of the art and science of illuminating engineering in NSW. As well as giving acclaim to designs of high standard, the Society believes that in promoting the awards, the concept of professionalism in the industry is enhanced and the importance of lighting design is publicly acknowledged.
Entries closed
Sponsorship now available here:

Education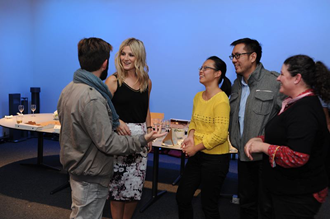 Basics of Lighting Design
---
IES: The Lighting Society is pleased to provide 'The Basics of Lighting Design' as a natural extension to the Introduction to Light course.
The Basics of Lighting Design 2 day course is ideally suited to people who are looking to further their education into Lighting Design and is a natural follow on from the Introduction to Light Course.
Find out more about the upcoming courses:
---
Notice of NSW/ACT Chapter Management Committee Nominations
Nominations for the 2019/20 NSW/ACT Chapter Management Committee are being called.
Click here for more information & to download Nomination Form. Nominations can be made at the ACM.
The Annual Chapter meeting is to be held in conjunction with the Technical Meeting on Thursday, 15th of August, 2019.
Time: 7pm till 9pm
Where: Parramatta Leagues Club, 1 Eels Place, Parramatta
---
NSW & ACT Committee Members
| | | |
| --- | --- | --- |
| Chapter President | Bettina Easton | nswpresident@iesanz.org |
| Chapter Vice President | James Vlassis | nswmembership@iesanz.org |
| Treasurer | Ales Vasenda | nswtreasurer@iesanz.org |
| Secretary | James Vlassis | nswmembership@iesanz.org |
| Board Member | Vessi Ivanova | vessi.ivanova@signify.com |
| Technical Meetings | Anu Anna George / Obaid Popal | nswtechnical@iesanz.org |
| Sidelights Newsletter/Website | Anu Anna George / Michael Richards | ales@3slighting.com |
| Membership | James Vlassis | nswmembership@iesanz.org |
| Education | | |
| IES NSW Awards | Ibby Kanalas | nswawards@iesanz.org |
| Annual Dinner | Bettina Easton | nswevents@iesanz.org |
| Canberra Branch | James Vlassis | nswmembership@iesanz.org |
| Newcastle Branch | Ales Vasenda | ales@3slighting.com |