New South Wales & ACT Chapter

Technical
---
ACT: TECHNICAL MEETING
Public Domain Lighting
Visual interest and comfort vs safety and conformance
Presented by Peter McLean, LFIES, FIE
Public domain lighting is more than simply conforming with standards. A conforming installation does not necessarily create an interesting and comfortable space or even necessarily improve visual performance.
Lighting can add to the day and night experience of the space, encourage people
to utilize the space and assist with wayfinding providing that the lighting relates
to people.
Peter McLean has over 40 years experience in the lighting design. Peter has
worked for government and private consultancies before founding Lighting Art
and Science in 1998. He has been closely involved in
Peter has a particular interest in the creation of public domain spaces that are
comfortable and visually interesting.
Date: Wed 16th Oct 2019
Time: 6pm for a 6.30 start
Refreshments: Food & drinks served 6 – 6.30pm
Venue: East Hotel, Kingston, Canberra
RSVP: anthony.linard@wsp.com by Friday 11th October
Sponsored by Sylvania Lighting
---
The National Construction Code - Section J6
---
The NCC Section J6 webinar is now available to IESANZ members in the Members section (log in to view).
---

Awards
---
2019 Lighting Awards
---
The Awards represent the NSW Chapter's most important contribution to the recognition and promotion of the art and science of illuminating engineering in NSW. As well as giving acclaim to designs of high standard, the Society believes that in promoting the awards, the concept of professionalism in the industry is enhanced and the importance of lighting design is publicly acknowledged.
Entries closed
Lighting Awards Dinner
Friday 1 November
Sponsorship and tables now available here:

Education
---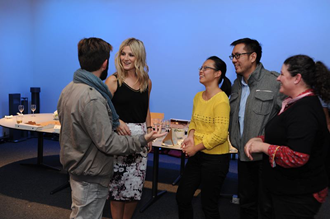 Lighting Courses
---
Our industry leading, Nationally Accredited lighting courses are popular with new and seasoned professionals across the building and construction sectors, including engineers, builders, designers, architects, lighting professionals, and those involved in the development and regulation of lighting policy.
NSW & ACT Committee Members
| | | |
| --- | --- | --- |
| Chapter President | Bettina Easton | nswpresident@iesanz.org |
| Chapter Vice President | James Vlassis | nswmembership@iesanz.org |
| Treasurer | Ales Vasenda | nswtreasurer@iesanz.org |
| Secretary | James Vlassis | nswmembership@iesanz.org |
| Board Member | Vessi Ivanova | vessi.ivanova@signify.com |
| Technical Meetings | Anu Anna George / Obaid Popal | nswtechnical@iesanz.org |
| Sidelights Newsletter/Website | Anu Anna George / Michael Richards | ales@3slighting.com |
| Membership | James Vlassis | nswmembership@iesanz.org |
| Education | | |
| IES NSW Awards | Ibby Kanalas | nswawards@iesanz.org |
| Annual Dinner | Bettina Easton | nswevents@iesanz.org |
| Canberra Branch | James Vlassis | nswmembership@iesanz.org |
| Newcastle Branch | Ales Vasenda | ales@3slighting.com |