New South Wales & ACT Chapter

Technical
---
ACT Trivia Night
---
nswevents@iesanz.orgDate: Thursday, 21st February 2019
Time: 6.00pm - 10.30pm
Venue: Albert Hall, 100 Commonwealth Ave Yarralumla, ACT 2601

Register
---

Awards
2018 Awards
---
The Awards represent the NSW Chapter's most important contribution to the recognition and promotion of the art and science of illuminating engineering in NSW. As well as giving acclaim to designs of high standard, the Society believes that in promoting the awards, the concept of professionalism in the industry is enhanced and the importance of lighting design is publicly acknowledged.

Education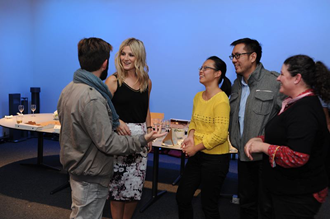 Introduction to Light
---
The IES: Introduction to Light course equips participants with a knowledge of terminology and energy efficient lighting practices. It is delivered by a combination of pre-reading, face to face teaching, assessment and revision.
---
Canberra
Date: 14th and 15th March 2019
Venue: Diplomat Hotel 2 Hely Street, GRIFFITH ACT 2603

Register
NSW & ACT Committee Members
| | | |
| --- | --- | --- |
| Chapter President - Membership | James Vlassis | nswpresident@iesanz.org |
| Chapter Vice President/Events | Bettina Easton | nswevents@iesanz.org |
| Treasurer | Ales Vasenda | nswtreasurer@iesanz.org |
| Secretary | Ales Vasenda | nswsecretary@iesanz.org |
| Board Member | Vessi Ivanova | vessi.ivanova@signify.com |
| Technical Meetings | Anu Anna George | nswtechnical@iesanz.org |
| Sidelights Newsletter/Website | Ales Vasenda | ales@3slighting.com |
| Membership | James Vlassis | nswmembership@iesanz.org |
| Education | | |
| IES NSW Awards | Ibby Kanalas | nswawards@iesanz.org |
| Annual Dinner | Bettina Easton | nswevents@iesanz.org |
| Canberra Branch | James Vlassis | james.vlassis@gmail.com |
| Newcastle Branch | Ales Vasenda | ales@3slighting.com |