New South Wales & ACT Chapter

Awards
---
Check out our photos from our 2019 Awards Night. Click on the Flickr icon below to see them all.

---
---

ACT CHRISTMAS PARTY !!!
Wednesday 8th December
from 6pm

ATTENTION PLEASE !!
Due to an unprecedented response in numbers, we have been forced to change our venue !!!
Our new venue will be:
Highball Express
82 Alinga Street
Canberra City
Sponsorship packages - $300 per sponsor
Tickets are FREE, but must be purchased for attendance numbers
SPONSORSHIP PACKAGES AND TICKETS AVAILABLE BELOW,
JUST CLICK ON THE PICTURES OR VISIT THE WEBSITE !!!

---


Education
---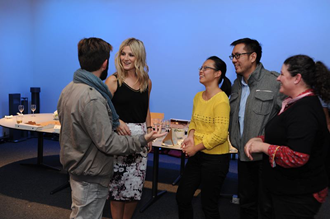 Lighting Courses
---
Our industry leading, Nationally Accredited lighting courses are popular with new and seasoned professionals across the building and construction sectors, including engineers, builders, designers, architects, lighting professionals, and those involved in the development and regulation of lighting policy.
---
---
NSW & ACT Committee Members
| | | |
| --- | --- | --- |
| Chapter President - Membership | Bettina Easton | nswpresident@iesanz.org |
| Chapter Vice President/Events | James Vlassis | nswevents@iesanz.org |
| Treasurer | Ales Vasenda | nswtreasurer@iesanz.org |
| Secretary | James Vlassis | nswsecretary@iesanz.org |
| Board Member | Vessi Ivanova | vessi.ivanova@signify.com |
| Technical Meetings | Obaid Popal | nswtechnical@iesanz.org |
| Sidelights Newsletter/Website | Michael Richards | michael.richards@aurecongroup.com |
| Membership | Michael Richards | nswmembership@iesanz.org |
| Education | Michael Richards | michael.richards@aurecongroup.com |
| IES NSW Awards | Anu Anna George | nswawards@iesanz.org |
| Annual Dinner | Bettina Easton | nswevents@iesanz.org |
| Canberra Branch | James Vlassis | nswmembership@iesanz.org |
| Newcastle Branch | Ales Vasenda | ales@3slighting.com |
ACT Committee Members
ACT Chapter Chair
Anthony Linard
anthony@linard.net
ACT Treasurer
Tharsshan Manuel
Tharsshan.Manuel@aecom.com
ACT Secretary
Gavin Saldanha
gsaldanha@northrop.com.au